The RCA Selectron -- US Patent 2,513,743 Gated Optical Readout
Jan A. Rajchman, Radio Corporation of America
Applied: 15 January, 1947
Granted: 04 July, 1950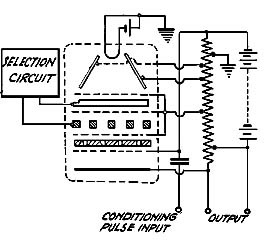 The '743 patent covers the additional structure added to gate the optical output of the Selectron.
(See also US patent 2,645,724.)


US Patent 2,513,743 images (OCR'd) 283 kB


US Patent 2,513,743 text (OCR'd) 76 kB


(Shift-click on each above link to allow side-by-side viewing of both text and images.)

Electrical readout of the Selectron was a "challenging" task at best. The electrical output, indicating the logical state of a selected bit, was tiny compared to the electrical noise coupled from the other electrodes in the tube. Optical output of the Selectron had no such limiting issues -- capacitive coupling of the address and control signals did not stimulate the phosphor dots, making optical readout a good choice. The major problem is that in storage mode all written bits are illuminated. Readout of a single bit disables all but the desired location. This means that all the other potentially lit phosphor dots, perhaps 255 of them, must decay in light output: Several milliseconds would be wasted waiting for the rest of the bits to "go dark." By gating the Faraday cage and phosphor dots the storage section would be decoupled from the readout section. All the dots would remain dark during the storage period except only the selected dot to be read -- if set.