The RCA Selectron -- US Patent 2,604,606 Planar Topology
Jan A. Rajchman, Radio Corporation of America
Applied: 15 October, 1949
Granted: 22 July, 1952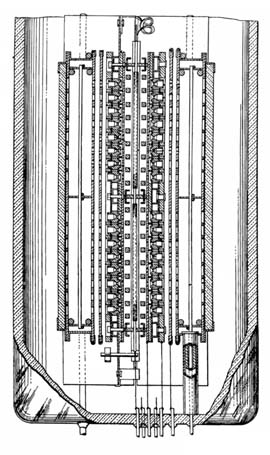 The 606 patent describes the sandwich or planar topology.




US Patent 2,604,606 images (OCR'd) 577 kB


US Patent 2,604,606 text (OCR'd) 119 kB

(Shift-click on each above link to allow side-by-side reading of both text and images.)


The initial cylindrical topology as described in the 670 patent was, in essence, a digitally addressed Williams-Kilburn storage tube. Where the cylindrical construction was relatively simple to build it lacked decent performance. Charges deposited on the continuous inner surface of the cylindrical target tended to spread, causing errors of data read out. The 606 uses discrete elements held in an insulating mica plate to ensure crostalk effect would be minimal. The tradeoff was an exceedingly complex device to build which was also afflicted with numerous mechanical tolerance accumulations. A major benefit of the 606 was the optical readout and viewing of the stored data.