The RCA Selectron -- The people of the Air Force Cambridge Research Center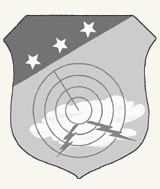 The Air Force Cambridge Research Center (AFCRC) at Hanscom Field, (Bedford) Massachusetts, was involved in RADAR research and in many fields as diverse as communication, weather and computers. The 5,120-bit Selectron memory system delivered to the AFCRC predated by several years the delivery, by Univac, of their computer leading this author to believe that the RCA Selectron memory system was not for a "computer" project, but rather a communications project. (The Whirlwind computer, which was in desperate need of random access digital memory at this time, was located on the MIT campus so it makes little sense to deliver a memory system to Bedford if it were intended for Whirlwind.) The only information indicating the delivery (much less the existance of the system) is the personal recollection and photographs of Richard Endres, an RCA engineer who worked on the memory in Princeton, and this one sentence from a Project Whirlwind memo dated 1952.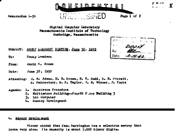 The AFCRC was developing digital communication systems to allow remote reception and interpretation of RADAR signals, a research program that would ultimately lead to the SAGE computer network of the mid-1950s. The "DRR" or Digital Radar Relay experiments were conducted by the Data Transmission Branch of the Communications Laboratory, which was formerly known as the Communication and Relay Laboratory. The members of this group were developing means and methods to transmit radar information over the existing telephone network and laid the foundation for the existance of the modern digital modem.
The Cambridge Research Center was previously named, prior to 1950, the Cambridge Research Laboratory (AFCRL) and was the basis of the eventual formation of the Lincoln Laboratories of the Massachusetts Institute of Technology.
Neither official project names nor personnel names of the AFCRC activities germane to the Selectron Memory System are known as of this date. However, a few likely participants are listed below:

John V. Harrington, Group Leader, Air Force Cambridge Research Laboratories, Cambridge, Massachusetts



John W. Marchetti, Director, Air Force Cambridge Research Laboratories, Cambridge, Massachusetts
Mr. John Marchetti - radar hero - returns to Camp Evans
Obituary, King's College


E. W. Samson, PhD, Air Force Cambridge Research Laboratories, Cambridge, Massachusetts



Ernest W. Bivens, Air Force Cambridge Research Laboratories, Cambridge, Massachusetts



Thomas F. Rogers, Air Force Cambridge Research Laboratories, Cambridge, Massachusetts



Ralph V. Wood, Jr., Air Force Cambridge Research Laboratories, Cambridge, Massachusetts



E. B. Staples, Air Force Cambridge Research Laboratories, Cambridge, Massachusetts



H. Feistel, Air Force Cambridge Research Laboratories, Cambridge, Massachusetts