The RCA Selectron -- The people of the Radio Corporation of America


RCA was involved in both the development of the Selectron tube and with the design and delivery of a "turnkey" memory system based upon the Selectron. Development of the tube was primarily at the Princeton Laboratories, while tube production was the task of the Lancaster, Pennsylvania facility.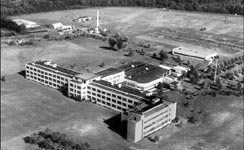 In 1941 construction began in Princeton, New Jersey, for the Research Laboratories of the Radio Corporation of America, which was subsequently re-named the David Sarnoff Research Center in honor of the principal driving force in RCA. In 1967 the David Sarnoff Library was dedicated at the facility. After the purchase of RCA by General Electric in 1984 the DSRC was divested and became the Sarnoff Corporation, a unit of SRI, International. In 2009 Sarnoff Corporation requested that the David Sarnoff Library vacate the facility, effectively ending its forty-year educational mission. Artifacts have been relocated to The College of New Jersey in Ewing Township (Trenton) New Jersey and the records to Hagley Museum and Library in Wilmington, Delaware. Sarnoff Corporation continues to do business at the original 201 Washington Road, Princeton, New Jersey site.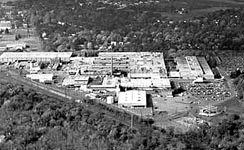 RCA Lancaster was built, and operated by RCA, as a production facility of electron tubes for the military needs of World War II. After the war, the sprawling site became part of the RCA Electron Tube Division. For nearly four decades, the facility grew and remained the primary development and production facility for power and cathode ray devices. Subsequent to a management buyout forced by the General Electric takeover, RCA Lancaster became the headquarters of Burle Industries, named for Dr. Erich Burlefinger formerly with RCA. It is still located at the New Holland Avenue site in Lancaster, Pennsylvania, doing business as PHOTONIS USA Pennsylvania, Inc., part of the France based PHOTONIS Group.



Jan A. Rajchman, PhD, Electrical Engineer, RCA Laboratories, Princeton, New Jersey
IEEE History Center Biography
IEEE History Center Oral History, 1975
National Academies Press, Memorial Tribute, 1992
<!A HREF="http://www.davidsarnoff.org/gallery-em/Hillier-VKZ-Snyder_SEM_c43.htm">


Richard L. Snyder, Jr., Electrical Engineer, RCA Laboratories, Princeton, New Jersey
Newspaper article from 1981
Obituary



George W. Brown, PhD, Mathematician, RCA Laboratories, Princeton, New Jersey; 1944 - 1946
The Princeton Mathematics Community in the 1930s
The Computer Museum, Johnniac Lecture, 1998, Comments
Memoriam


George A. Morton, Electrical Engineer / Physicist, RCA Laboratories, Princeton, New Jersey


Leslie E. Flory, Electrical Engineer, RCA Laboratories, Princeton, New Jersey
Les Flory
Early Television History
Flory Family Genealogy


Igor E. Grosdoff, Senior Engineer, RCA Laboratories, Princeton, New Jersey


Milton Rosenberg, Electrical Engineer, RCA Laboratories, Princeton, New Jersey


Paul Rudnick, Physicist, RCA Laboratories, Princeton, New Jersey
University of Chicago memoriam


Erik Stemme, Visiting International Intern, The Royal Swedish Academy of Engineering Sciences, Sweden
Early Computers in Scandinavia
The BESK Boys
BESK
DataSaab


Stan Forgue, Engineer, RCA Laboratories, Princeton, New Jersey


Richard O. Endres, Electrical Engineer, RCA Laboratories, Princeton, New Jersey
The CK722 Museum


Vladimir Kosma Zworykin, PhD, Scientist, RCA Laboratories, Princeton, New Jersey
IEEE History Center Oral History, 1975
National Academies Press, Memorial Tribute, 1984


Clarence D. Tuska, Director of Patents, RCA Laboratories, Princeton, New Jersey
American Radio Relay League


Paul G. Herkart, Electrical Engineer, RCA Laboratories, Princeton, New Jersey
Obituary


Max H. Messner, Electrical Engineer, RCA Laboratories, Princeton, New Jersey


Dietrich A. Jenny, Physical Chemist, RCA Laboratories, Princeton, New Jersey


Alan. M. Glover, PhD, RCA Tube Division, Lancaster, Pennsylvania
W. Widmaier, RCA Tube Division, Lancaster, Pennsylvania
C. J. Young, RCA Camden, New Jersey
J. A. Briggs, RCA Laboratories, Princeton, New Jersey
J. E. Dilley, RCA Laboratories, Princeton, New Jersey
A. S. Jensen
J. P. Smith
Per Hals, Visiting International Intern, The Royal Swedish Academy of Engineering Sciences, Sweden
H. E. McCandless, RCA Laboratories, Princeton, New Jersey
Arnold A. Cohen, RCA Tube Division, Lancaster, Pennsylvania
Charles Babbage Institute Oral Histories, 1983, 1987

John Vassos, Industrial Designer / Artist, RCA Functional Design Department, Camden, New Jersey
The Artwork of John Vassos
The Papers of John Vassos








Name Gleaner -- This section is written to allow search engines to find the common variations of names such as one and two intitials both pre- and post-family name.
J Rajchman J A Rajchman Jan Rajchman
G Brown G W Brown George Brown George W Brown
R Snyder R L Snyder Jr Richard Snyder Richard Lee Snyder Jr
G Morton G A Morton George Morton
L Flory L E Flory Leslie Earl Flory Les Flory
I Grosdoff I E Grosdoff Igor Grosdoff
M Rosenberg M Milt Rosenberg
P Rudnick Paul Rudnick
R Endres R O Endres Dick Endres Richard Endres
V Zworykin V K Zworykin Vladimir K Zworykin
C Tuska C D Tuska Clarence Tuska
P Herkart P G Herkart Paul Herkart
M Messner M H Messner Max H
D Jenny D A Jenny Dietrich Jenny
A Glover A M Glover Alan Glover
W Widmaier W
C Young C J
J Briggs J A
J Dilley J E
E Stemme E Erik Stemme Erik
S Forgue s v Forgue Stan Forgue
P Hals P Hals Per
H McCandless H E
A Cohen A A Cohen Arnold Cohen
J Vassos J Vassos John